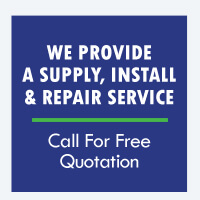 Industrial, Commercial & Domestic
Bristol based Brunel Doors supply and install roller shutters and grilles to customers all over Bristol, Bath and the South West, all of which are made to measure and are available with various options. From simple push-up – pull-down operation to fully automatic systems all of which can be fitted either externally or internally. Windows and doors can be targets for potential unwanted access into your home or property, adding a window grille or roller shutter can add an extra layer of security.
We have completed several installations of roller shutters and grilles to a wide range of clients in Bristol and Bath including the following applications:
Shop front roller shutters
Workshops
Roller shutters for schools
Warehouse and Garage roller shutters
Roller shutters for offices
Bars
Serving hatches
Window roller shutters and many more.
We also keep a large selection of spare parts in stock so that we can give fast and efficient repair service to all of our customers after installation. So if you are looking to improve commercial or domestic security for a property in Bristol or the South West get in contact with us.