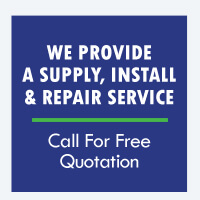 Access control systems from Bristol based Brunel Doors put you in control, allowing you to determine who has authorised access in real-time, our systems limit access through controlled doors, gates or turnstiles to staff or visitors that are authorised to do so. With years of expertise in access control, Brunel Doors can provide an access control system solution that evolves with your changing business needs and requirements.
We have a vast experience in the installation of access control systems to clients of all sizes across Bristol, Bath and the South West from our years of working in the industry. Our installations to date have included:
Key pad entry systems
Mag locks
Swipe cars entry
Remote locking
Intercoms
There are many types of access control systems that we can offer you all of which are based around the following technologies:
Magnetic Swipe Cards
Biometric Access using fingerprint readers
RFID through the use of a proximity card or key fob
Every system we install is unique to the location where it is installed, we work closely with each of our clients to ensure the system we install is correct for the clients specific needs.
If your business or property is in Bristol, Bath or the South West of England please Get in Contact